Here is the post I promised y'all on my photography equipment. :) If you have any questions about anything please feel free to ask me in the comment section!
Camera Body: Nikon D3000 10.2 MP Digital SLR Camera
Learn more about it
here
.
This is the original camera I started my wonderful adventure of DSLRs with! As far as I can tell, it has a considerably simple design and is very easy to work with. I was able to find my way around it very soon after first getting it into my hands. :) Having never even held a DSLR before, it was quite a new experience for me. When the lens is attached it feels rather heavy compared to a simple point-and-shoot. Also, with this particular model, you can only see through the viewfinder to take a picture, unlike a point-and-shoot where you see it on the large screen. You can review the picture on it once taken of course, but for some this might take a little adjusting to. Actually, I much prefer it now that I've gotten used to it, and when a sibling asks me to take a picture with their point-and-shoot I automatically bring it up to my face to look through (ouch). Haha! :P
I'm considering an upgrade to a more professional DSLR one day, but not for quite some time yet. In the meantime, this little camera that I was blessed with will be perfect for capturing those moments and bits of life that are beautiful to me. :) I highly recommend it if you are starting out with DSLRs, or simply want something easy to work with and use while still getting great pictures.
Lens: Nikon 55-200mm f/4-5.6G ED IF AF-S DX VR Nikkor Lens
Learn more about it
here
.
This is my zoom lens. I don't use this one as often as my other lenses because I don't always need to get so close to my subjects. They're most often close enough to capture with my 50mm. :) However, I love to use this one when I'm taking bird pictures, as well as pictures of certain 'shy' farm animals (
read: naughty little Smoky the calf
). This is also great if you simply want a closer shot of something. In my own humble opinion, this one is also great to carry around for capturing shots out-of-doors, such as when on a walk or going on a nature study. Perfect for shots of timid wildlife, as well as interesting flora or fauna that might not be easy to reach or get close to. (
Can't you tell I've been out in the woods with my zoom lens for a little too long??
)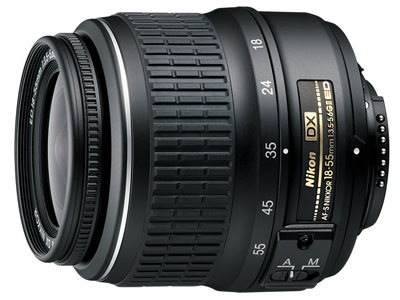 Lens: Nikon 18-55mm f/3.5-5.6G ED II AF-S DX Nikkor Zoom Lens
Learn more about it
here
.
This lens usually comes in the kit, and is great as an all-purpose lens, especially if you don't want to carry around a lot of lenses and have to change them if you go from shooting a wide scenery to a bouquet of flowers. I like how you can get a nice wide shot when at 18mm, and still zoom in enough to get a closer view at 55mm. It's not my favorite simply because the quality isn't
quite
as good as a "set" lens (such as my 50mm) and because you don't get the same creamy backgrounds and very sharp detail. It's still a fabulous all-purpose lens, however, and it's perfect for a budding photographer learning their way around DSLRs.
Lens:

Nikon 50mm f/1.4D AF Nikkor Lens
Learn more about it
here.
This lens is by far my favorite! Perfect for portraits and still life, it gives crisp, clean pictures with smooth, creamy backgrounds. The low aperture also allows you to take pictures in lower light conditions, which is fantastic. This is the one you'll find me using the most often. Just about any picture on my blog (taken after Dec. 25 2010) was shot with this one. The only thing you might not like about it is that it is set at a particular millimeter length, meaning you can't zoom in and out. So if you want a wider shot, such as a piece of a garden or a bedroom, you'll have to walk a good bit away from where you would normally stand if you had a wide-angle lens. Being a "set" lens is actually what I like about this one, because it allows you to get sharper, cleaner, more detailed pictures than say, the 18-55mm.
(This lens is also fabulous if you like a lot of lovely bokeh in your pictures!)
- - - - - - - - - - - - - - - - - - - - - - - - - - - - - - - - - - - - - - - - - - - -
Along with the camera and lenses themselves, I also use my brother's very nice tripod for certain shots.
A remote will probably be the next little piece of equipment I will purchase, for when I want to take family portraits that actually include me in them (:P) and for when I want to set my camera and tripod up in front of a bird feeder, etc.
As I add to my 'camera bag' so to speak, I'll try to post on my new gadgets. :)
- - - - - - - - - - - - - - - - - - - - - - - - - - - - - - - - - - - - - - - - - - - -
Please remember that I am still an amateur photographer and these are just my own simple opinions on the things I use.
I hope this helped you out in someway, and again, please feel free to ask questions! :)
Blessings!